Témoignage – Corona Theatre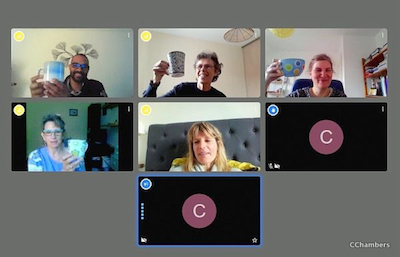 Corona Theatre

By Catrina Chambers, Professeure de Théâtre au CCFB
May 2020
By the time you read this testimony, we will have shared the experience of confinement for two long months of uncertainty. Just before the strict confinement began on March 17th, the CCFB English Theatre Workshop had been preparing to stage a Spring Readings event.
It became increasingly obvious that the world had entered into new uncharted territory and we were facing into war with an invisible enemy. With a strict lockdown imminent and panic rising in the people, we received notice on Friday 13th March that associations were cancelling activities with immediate effect. March 14th was to be the day of our Spring Readings event, and it was with a heavy heart I contacted all of the English Theatre Workshop actors to inform them of the decision to cancel. Our decision was the correct one because, four days later, France entered into a strict period of quarantine not seen for many a year.
At the beginning of the confinement period, people found it difficult to get used to a new way of living. Everything was turned on its head. All of us suddenly found ourselves plumbing the depths of technological despair, as we grappled with videoconferencing platforms, moody microphones and fragile, overloaded computers. Over the past weeks, we have used the time to become accustomed to working remotely, navigating our technology with the ease of experts (in some cases, not all!). What we have discovered is that teleworking produces three or four times the amount of work we would normally have, so that we're square-eyed and exhausted from hours of either sitting hunched over our laptops on a sofa, or sitting awkwardly at a table – because the table is too high or the chair is too low. Strained neck muscles, tendonitis and eyestrain are a nuisance, but a small price to pay for the overall health and safety of the community.
Confinement has changed the way we sit, the way we type, the way we work. In some cases, even the way we think. But our objectives remain the same. We look forward to the day when we can meet our friends freely again.
From a teaching perspective, the workload can feel overwhelming at times – but on the other hand, the work provides an imperative structure to one's day, to one's week. Teaching theatre remotely was not something I had ever envisaged, but needs must. It is not only possible, but has its advantages, and I quite like it! Theatre is regarded as a contact sport, it is interactive. But there are also the introverted elements giving rise to exercises in self-study – invaluable during these quieter, contemplative times.
The actors are set various tasks comprising vocal, physical and written work – with the opportunity for progress discussion. Even though we're online, the theatre workshop is still a fun place to be, and participants are eager to speak to their team-mates. Communication takes place via email and the Framatalk videoconferencing platform, and all task explanations are set out on the theatre group Google Doc.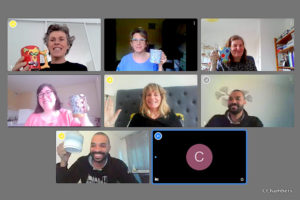 Confinement has altered the home life rhythms of so many, so some of the actors are unable to participate in each theatre class. Some have broadband or WiFi connectivity issues, some have childcare issues, some are just too tired to participate (after themselves spending all day teleworking). Some participants keep in regular contact and still follow the course by email and Google Doc, if not by Framatalk. A few others have not maintained contact, while a few others have suffered mild Covid-19 symptoms (thankfully now recovered).
Everyone is going through a difficult or anxious period of time in one way or another, and while it would be lovely to have the full complement of students again in a class group, we adapt to the situation as it presents itself.
Our annual end-of-year performance should have taken place on Sunday 14th June in Pannonica, but it has (unsurprisingly) been cancelled. Pannonica will remain closed in June, due to restrictions. We'll really miss the venue this year – it would have been our sixth year performing our show there – but we hope to return in 2021. It's a wonderful little theatre.
We will however, stage an online end-of-year performance instead, featuring the actors performing their own work (Verbatim Theatre), as well as a little Shakespeare, and some other bits and pieces. We will also rehearse online, across our Framatalk platform.
At the beginning of confinement, I asked the actors to write down their thoughts and feelings on the confinement, and the resulting Verbatim Theatre monologues will form part of this year's online performance. Not all of our 36 actors will be available to perform in the show, but we hope a reasonable high number will participate. Confinement has provided the CCFB English Theatre Workshop actors with the opportunity to unearth hidden talents and further develop their creative skills – and we look forward to bringing those talents to the small screen in June
We will look back on this unusual period of time with a mixture of feelings. Charles Dickens, in the opening paragraph to A Tale of Two Cities, sums it up thus: « It was the best of times, it was the worst of times ».
We're making the best of the situation because, in true showbiz tradition: « The Show Must Go On! »